HoloCPR: Designing and Evaluating a Mixed Reality Interface for Time-Critical Emergencies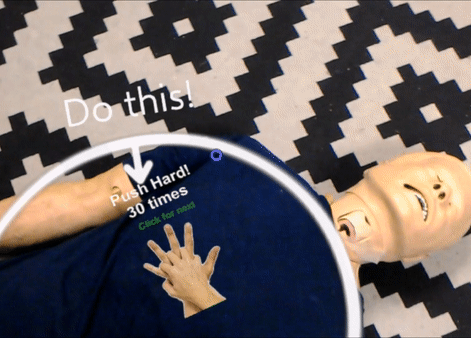 ---
Overview
Performing time-critical procedures such as Cardiopulmonary Resuscitation (CPR) usually requires trained individuals on the scene. Even with aids available, most bystanders do not attempt resuscitation due to panic or fear of failing, often at the cost of the victim's life.
To better understand the use of mixed reality for resuscitation guidance, we investigate if spatially localized instructions are better than those on a 2D screen. We propose Mixed Reality (MR) as a compelling medium to support time-critical emergencies, and study its use in this context through an iterative user-centered design process.
Our research outlines a number of key considerations for the design of time-critical emergency interfaces that led to the creation of HoloCPR, an MR application providing real-time instructions for resuscitation for novices through a combination of visual and spatial cues.
---
Publications